Z – Line Folding Electric Scooter

Bring your city to life with the Kruz Z-Line Folding  Electric Scooter, the latest tech in personal transportation. With its ultra-lightweight, ergonomic design, it's perfect for commuting or running errands. This folding eScooter takes up 1/4 the space of a regular bike, and has a recharge time of just 4 hours.
The Z-Line eScooter includes a beautiful HD Display (Power, Speed, Range), a mechanical front drum brake, and a rear e-ABS electronic brake for safe and quick braking power. With ambient blue lighting on both sides, it gives you a safer riding experience while staying visible to other road users.
Riding the Kruz Z-Line Folding eScooter is like taking a breath of fresh air. With its folding design, it can be conveniently stored in small spaces. The perfect electric scooter for commuters office workers, students or people that want to get from A to B with ease.
Features
300W Brushless Motor
HD Display
Adjustable Speed
4 Hour Charge Time
Ambient Blue Lighting on Right/Left Side
Bright LED Front Light and Rear Brake Warning Light
Mechanical Front Drum Brake + Rear E-ABS Electronic Brake
Ultra Lightweight Body 15kg
Compact When Folded
3 Step Fast Folding
Tough Magnesium Alloy & Aluminum Alloy Front Tube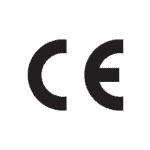 Customer Review
Took delivery of a Z Line Scooter and a CT Cruiser great product for all the family.
Excellent customer service from the staff at Kruz, Thanks
Need a Helmet or Lock for your Electric Scooter?
Browse our range of Livall Smart Helmets here.
Browse our range of award-winning Litelok eBike and eScooter locks here.
Contact us today or visit our showroom in Douglas, Cork City and speak to a member of our sales team!
Current Delivery Lead In Time: 1 – 3 Working Days