LITELOK ONE MOTO
€179.00
LITELOK ONE MOTO is lighter than locks of an equivalent security level, such as weighty chains or bulky rigid locks. Weighing only 1.46kg (3.21lb) say goodbye to carrying heavy locks whilst riding.
 Ideal for Scooters and Motorcycles – perfect for on the go security
 Optimised balance of high security, low weight and flexibility
 Up to 50% of the weight of U locks and motorcycle chains
 Independently accredited: Sold Secure Motor Scooter Silver and ART 2
 Compact storage, easy click to lock and pairable for extra length
 Includes a washable Neoprene Skin

Description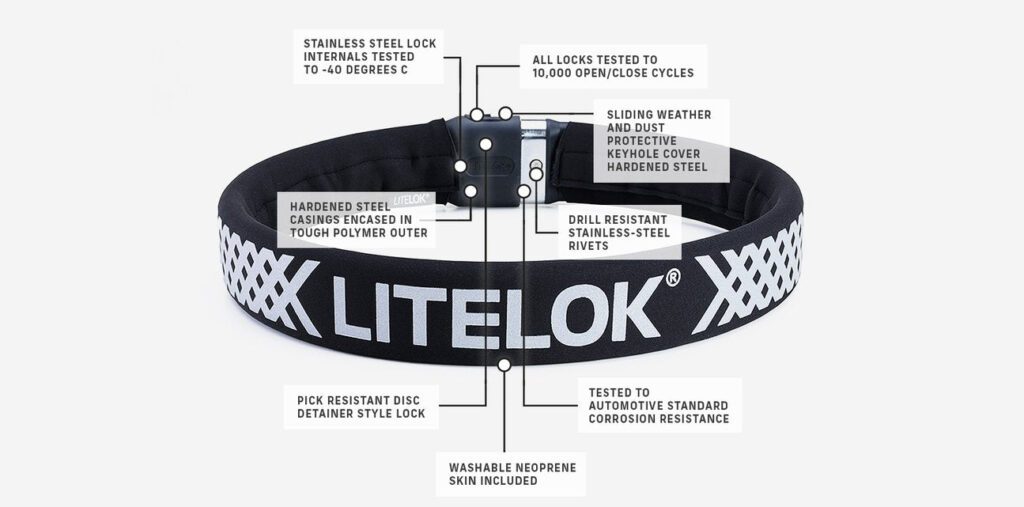 SECURE
Due to the composite nature of our Boaflexicore strap and virtually indestructible hardened steel alloy lock body, LITELOK ONE MOTO can withstand sustained attack by the most common theft tools such as bolt cutters, crowbars and hacksaws.
FLEXIBLE
It bends and flexes making it's easier to secure your ride wherever you want around a wider range of fixed objects such as bike stands, lamp posts and railings. It can be easily cinched to conveniently pack whilst riding.
LIGHTWEIGHT
LITELOK ONE MOTO locks are considerably lighter than any other Motorcycle Lock on the market. Weighing just 1.46 Kg, this lock is also flexible, and portable, meaning you don't have to carry heavy, cumbersome locks when riding.
OPTIMISED SECURITY
Independently tested and accredited by Sold Secure and ART, LITELOK ONE MOTO provides insurance rated, high security but weighs only 1.46kg (3.21lb). Available in 2 colours (Crow Black & Lava Red).
____________________________________________________
CLICK TO LOCK
Our integrated design and click to lock system make it easy and fast to secure your bike, without having to fiddle around. Simply click to close without the need for a key. A key is only required to unlock your bike.
PAIRABLE
Innovative lock design enables two LITELOK locks to be paired together in parallel for additional length or on separate wheels for extra security. Ideal for locking multiple bikes.
KEY REPLACEMENT
Every key is coded giving you peace of mind should you need a replacement. Ensure you register your LITELOK after purchase with us.
Additional information
| | |
| --- | --- |
| Choose Your LITELOK ONE MOTO | LITELOK ONE MOTO Lava Red, LITELOK ONE MOTO Crow Black |
WHATS IN THE BOX
A
1x LITELOK ONE MOTO
Or 2 locks if purchasing a twin or combo set.
B
2x Unique Keys on a Stainless Steel Keyring
Remember to make note of your unique key code in order to register your warranty and to enable you to use our key replacement service, should you ever lose your keys.
C
2x WrapStraps
Hook and Loop adjustable straps to cinch the ONE MOTO to a smaller size for easy packing into a bag, under a seat or into a pannier.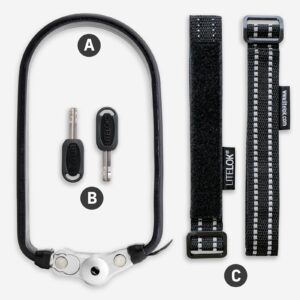 Delivery
Nationwide delivery in 3 – 5 working days.